Are you a senior or elderly person who is getting ready to move? Or, a caretaker of a senior or elderly person? If so, you may be feeling overwhelmed and unsure of where to start. Don't worry – we are here to help! We are Senior moving specialists!
In this blog post, we will provide tips and advice on how to move for seniors and the elderly. We'll cover everything from packing and planning to hiring movers and staying organized during the move. So whether you're moving across town or the country, read on for helpful tips!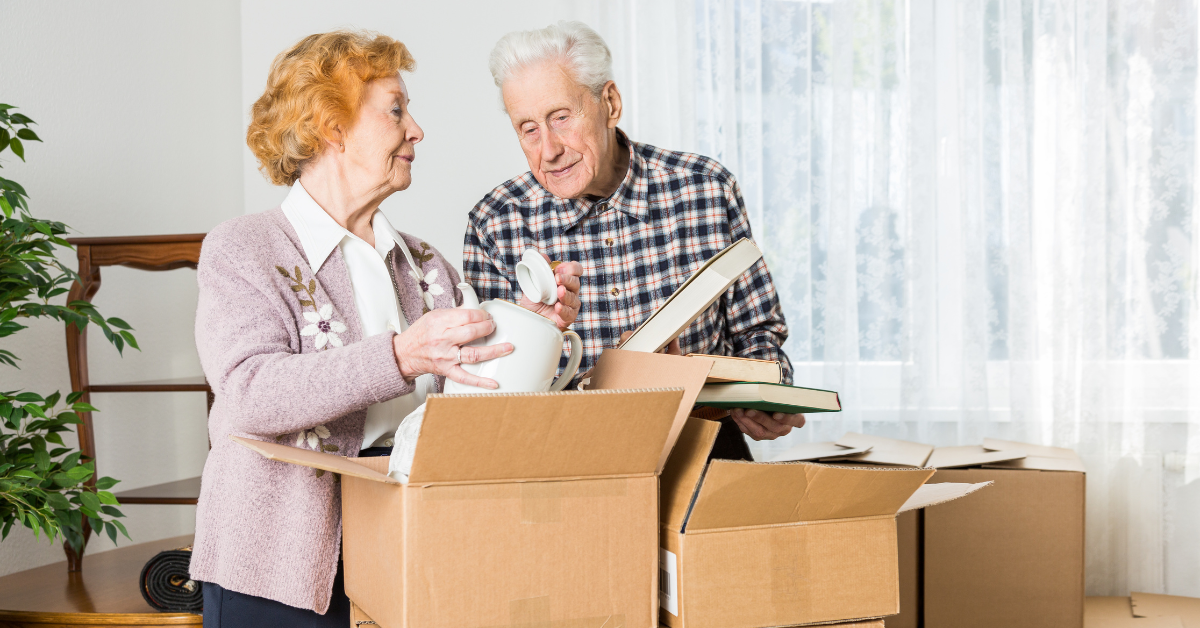 Packing and Planning for Senior Citizens or the Elderly:
The first step in any move is packing and planning. This can be a daunting task, especially for seniors and the elderly. But there are a few things you can do to make it easier on yourself.
First, start by decluttering your home. Get rid of anything you don't need or want – this will make packing easier and save you money in the long run.
Next, create a packing schedule and plan ahead. Make sure to pack essential items first, and label all of your boxes so you know what's inside.
Finally, don't forget to notify your friends and family of your move – they may be able to help you out!
Hiring Movers:
Did you know that over 50% of all Moving by Design customers are over the age of 50?
We are Senior Moving Specialists!
That percentage is expected to climb as the baby boomer generation matures. Let Moving By Design be your senior moving specialist today! Whether the move is across Houston, Texas, or the United States, we are your senior move managers and transition specialists.
When it comes to helping senior citizens move, we offer the best care and consideration possible during what is often a stressful time.
Staying Organized:
The key to a successful move is staying organized. This means keeping track of all your belongings and making sure they all arrive safely at your new home.
Create an inventory list of everything you're bringing with you, and take pictures of your furniture and valuables. This will come in handy if anything gets lost or damaged during the move. You should also set up a place for all your important documents – birth certificates, social security cards, etc. – so you can easily access them when you need them.
Tips for Family:
If you have an elderly loved one who is planning a move, there are some ways you can help with the transition. First, plan more time than you think for the move. Older people take longer to make decisions, pack and settle in, so give them plenty of time.
Secondly, know when your help is wanted – sometimes seniors just need some space. Be prepared for frustration on the part of your parent, especially if the move involves a move to assisted living.
Finally, encourage your loved one to make friends as soon as possible after they move – this will help them get settled more quickly.
One Week Before the Move:
The week before your move, there are a few things you should do to prepare. First, pack any prescribed medication. Small items like medication are easy to forget the closer you get to your move day. Pack them in an easy-to-access (but impossible to forget) place. Also, pack a bag with essential items for the first few days in your new home. This should include things like clothes, toiletries, and a first-aid kit.
Be sure to cancel any subscriptions or memberships you have. This includes things like the gym, local newspapers, magazines, etc. You don't want to be paying for services you're not using!
Set up a charity pickup for items you'll be donating to charity. This will save you time and back issues on move day.
Forward your mail to your new address and notify important companies – like your insurance company and other billers – of the change.
Lastly, say goodbye to your old home. This can be an emotional moment, but try to focus on the positive – you're starting a new chapter in your life!
The Big Day:
On move day, make sure you're well-rested and prepared for a busy day. Have a light breakfast and wear comfortable clothing. If you hired movers, go over the plan with them before they start loading your belongings. If you're doing the move yourself, be sure to take breaks and ask for help when needed. And once everything is loaded up and ready to go, take a deep breath and relax – you did it!
After you Move In:
Once you've moved, take some time to get settled in your new space. Here are some tips to help you settle in more quickly:
– Meet the neighbors: Establishing social connections early will help you feel at home in your new space.
– Get to know the community: Whether it's the social events of your assisted living community or the stores and social opportunities around your town, take some time to get to know the community where you have settled.
– Unpack logically: Start with the items you need right away, then unpack a little at a time until you're fully settled in your new home.
– Schedule a party: While unpacking and getting settled, it's important to take some time to relax. Schedule a party or get-together with your friends and family to catch up and relax in your new space.

We hope these tips have been helpful! Moving can be a daunting task, but with a little planning and preparation, it doesn't have to be. At Moving by Design we have a team of experts who are Senior Moving Specialists. Contact our office today to schedule your consultation and make this your best move yet! Good luck with your move!
https://movingbydesign.com/wp-content/uploads/2022/08/Essential-Moving-Advice-for-Seniors-and-the-Elderly-1.png
628
1200
Tim Gray
https://movingbydesign.com/wp-content/uploads/2018/07/LOGO_MOVING_BY_DESIGN-v2-180x180.png
Tim Gray
2022-08-28 10:00:18
2022-09-07 08:29:08
Senior Moving Specialists: Essential Moving Advice for Seniors and the Elderly