Houston's Specialty Item Moving Company
No matter how unusual, or difficult you may think it will be (Moving a Piano, Gun Safe, Peloton Bike or Treadmill, or even a Jacuzzi), Houston's top moving crew, Moving By Design, can help you with any Specialty Item Moving needs.
People can often come across weird and unusual items in their lifetime. Some people collect antiques, and other people may have a collection of taxidermy animals. Maybe your item isn't unusual, but difficult to move, like your prized baby grand piano. We take pride in our 35+ years of experience, and we can assure you that we've seen pretty much all there is to see when it comes to odd, or fragile, items that our customers need moving. No item is unmovable!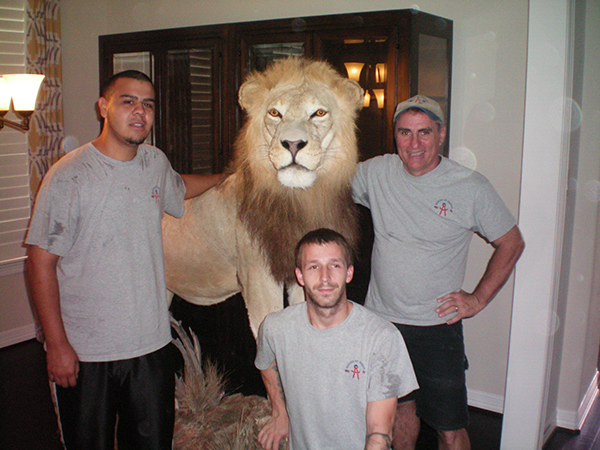 Need To Move Something Unique? These Are Some of the Specialty Items Our Team Can Move:
Taxidermy animals
Upright Piano Moving
Baby Grand Piano Moving
Grand Piano Moving
Pool & Billiard Table Moving
Shuffle Board Moving
Grandfather Clocks
Antiques & Fragile Item Moving
Automotive Moving
Fine Art Crating & Moving
Gun Safe Moving
Sauna Moving
Jacuzzi Moving
Peloton Bike Moving
Treadmill Moving
Elliptical Moving
Weight Set Moving
Exercise Equipment Moving
Gym Moving

Packing, Crating, Loading, and Moving Your Items
At Moving By Design, we schedule our team to work on your time. Our movers can do as little, or as much, as you need. Due to their fragile nature, many specialty items will require professional crating and packing. If your items are recommended for crating, our specialty-trained team members will take care of those crating services.
If your item is already packed and you simply need our moving team to help with loading and unloading trucks, we can do that too.
Whether you are moving the specialty item across your house, or Houston, our professional moving team is on standby with a full line of moving services to suit your needs and budget. No job is too big or too small for our experienced moving crews, from small apartments and large homes to the office and retail moves we give the same attention and detail to every move. Our movers will pay attention to every detail, protect your valuable items, and be trackable via GPS the entire time they have your specialty item in the moving truck!
Contact us to request a free moving quote, or give us a call at 281-648-6683.
Liability Memo:
Moving by Design is not liable for damage to items packed by others or for items that require packing for safe handling, i.e., mirrors, marble, granite, pictures, glass tops, lamps, or lampshades, box springs, and mattresses, and all other unpacked fragile items, as well as all breakables packed in a carton by customer. This is why we recommend crating many items.